Expert for Energy
and electrical engineering
Our focus is on plant safety.
Have your electrical systems expertly inspected!
International Certifications
Expert for electrical engineering
according to DIN EN ISO/IEC 17024
We provide qualified, independent and objective expert opinions, which can help you in case of dispute. Furthermore, we provide you with independent and qualified advice and support for your projects. We analyze, issue findings and expert opinions and secure evidence. Objectively, independently and impartially.
The focus of our work is on plant safety.
Have your electrical systems expertly thermographed or test us as independent experts.
The best thing to do is to contact us right away at:
High flexibility - short notice appointments
Wide range of expertise from EMC to lightning protection
Internationally recognized, monitored according to DIN EN ISO/IEC 17024
Independent, impartial and objective
Experience and solution approaches from the project business
Practical solution finding (feasibility)
Interdisciplinary work due to the broad spectrum of knowledge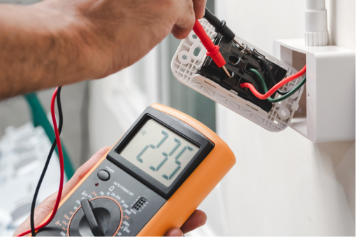 Qualified. Independent. Objective.
We are the independent third party
Our expert opinions are prepared according to internationally valid guidelines (ISO 17024). This ensures our clients and courts an independent, impartial working method and evaluation in a dispute or assessment of a factual situation. We support companies in the project business, insurance companies or industrial clients worldwide with our services in the field of expert witnesses. As a commissioned expert office, we also offer foreign customers the acceptance of products and goods at a supplier in Germany - so you save travel expenses and do not have to spare important personnel.
As an independent third party you have a neutral partner on board
What is electromagnetic compatibility?
What is electromagnetic compatibility (EMC)? If the fault in an electrical system, control system or manufacturing process is not found, EMC is used as the cause. The use of more and more electrical devices in industry and private households and the increasing construction density in buildings inevitably leads to more frequent interference between devices, cables and wiring systems. The correct installation, wiring and use of approved components minimizes the risk. Everything has been planned correctly, certified individual products have been used, the cables have been correctly dimensioned, the communication network has been appropriately parameterized, and yet sporadic failures, malfunctions or considerable heat generation occur, then we are here for you!
Manufacturing and construction supervision
According to your instructions and inspection plans, we supervise the production and testing of electrotechnical components, carry out the acceptance tests and supervise the installation of electrical equipment in your projects. We check the basic and implementation planning of your subcontractors, provide advice on your projects and monitor compliance with national and international standards and regulations.
Check or certify lightning protection concept
Lightning protection is one of the basic building blocks in the construction of a building and lays the foundation for trouble-free operation of electrical systems in all atmospheric conditions. If you have questions about your lightning protection system, you need to make an adjustment regarding changes to your building. Has a photovoltaic system been installed on your residential, office or commercial building and you need to review the lightning protection concept or have it certified that the new structures do not affect your lightning protection concept? We will be happy to support you.
Simulations of electrotechnical phenomena
Qualifications & Certificates
Project management
for energy and electrical engineering
We are looking forward to meeting you!
Our work ensures on the one hand the depth of a subject area and on the other hand the evaluation with regard to the neighboring disciplines and thus a well-founded overall view of your task and the later realization of the solution.
Let us advise you without obligation and make an appointment right away.